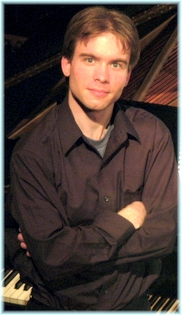 Carl Schroeder of Minneapolis, Minnesota, composes music for concert band, orchestra, choir, chamber ensembles and solo piano that often draws inspiration from American history, current events, natural surroundings and memories. As a pianist, he performs his original music.
His large ensemble music has been performed by more than 40 concert bands, orchestras and choirs, including the Air Force Band of Mid-America, Minnesota Youth Symphonies and Ukraine's Chamber Choir Kyiv. He has written commissioned works for the Minnesota Symphonic Winds, Minnesota State Band, Cornell University Symphonic Band, Southwest Wind Ensemble, Calhoun-Isles Community Band, Wells Fargo Chorus and other ensembles and individuals, and four CDs of his music have been released. His choral work Two December Carols has been published by Boosey & Hawkes.
Schroeder's music has earned awards and recognition from various organizations including the Minnesota Music Educators Association, which named him "Composer with Most Potential" in 2001, the National Band Association's Young Composer Mentor Project, in which he was a 2004 participant, and Virginia-based record label ERM Media, which awarded him the ERM Media Masterworks Prize in 2006. He has received four ASCAPlus Awards from the American Society of Composers, Authors and Publishers.
Schroeder graduated from St. Olaf College in 2005 with a bachelor of music degree in theory/composition. He studied composition primarily with Timothy Mahr and Peter Hamlin, and has also taken lessons with composers Mark Camphouse, Donald Grantham and Dana Wilson. Recent performances of his music include the Northern Symphony Orchestra's premiere of April Sky; the Calhoun-Isles Community Band's premiere of Two December Carols for concert band, which was commissioned by the Calhoun-Isles Community Band and Ann M. Verme in memory of Carol Voight; the premiere of Historic Fort Snelling, composed for Flute Cocktail on a commission from Inez Bergquist and Karen Koepp; and the Southwest Wind Ensemble's premiere of Southwest Memories, commissioned by the Southwest Foundation in celebration of the 75th anniversary of Southwest High School in Minneapolis, Minnesota. His newest project is Capitol Fanfare, a concert band work commissioned by the Minnesota State Band in celebration of the reopening of the Minnesota State Capitol, premiered in August 2017.
Click here for a high-resolution photograph [credit David Gonnerman].